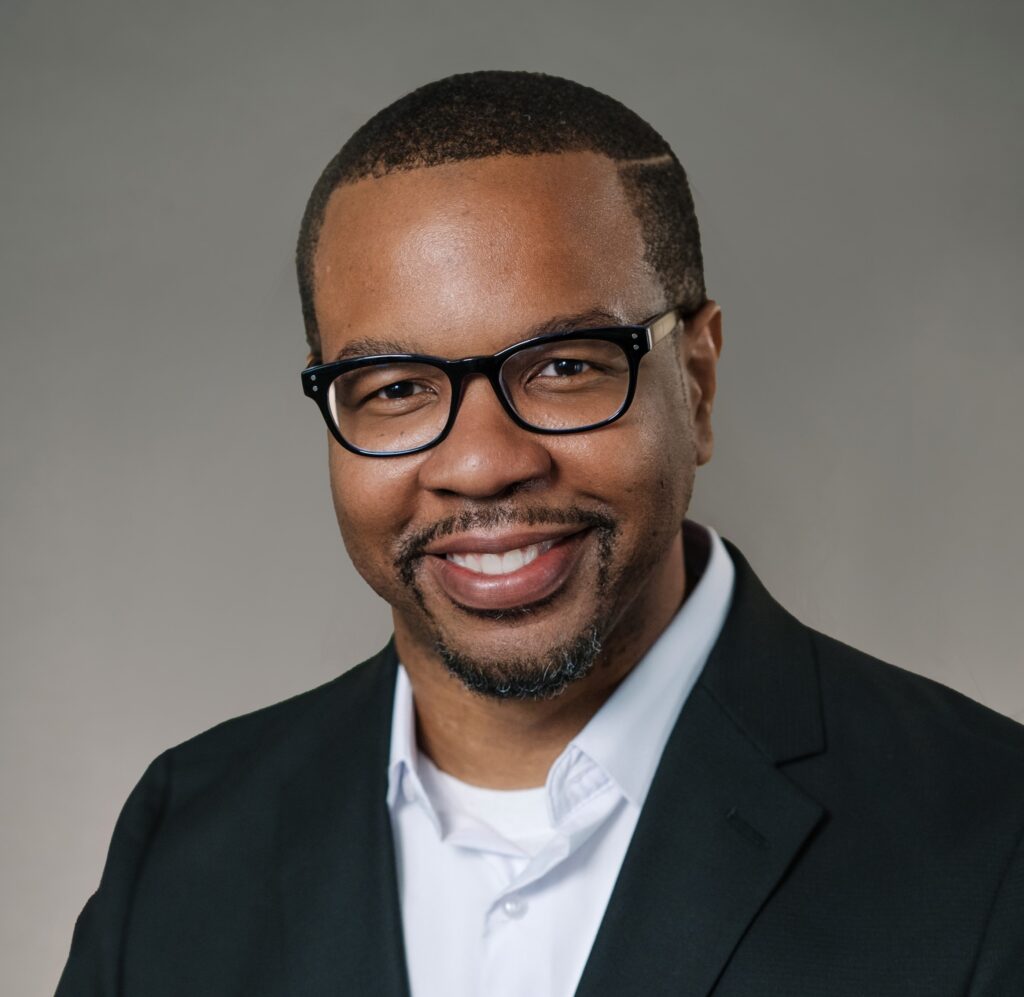 Before his arrival at IEL, Eddie Koen served as the President and Chief Executive Officer for the Urban League of Greater Southwest Ohio (ULGSO), one of the largest Urban League affiliates in the country serving Cincinnati, Northern Kentucky, and Dayton, Ohio. He grew the League from 45 to 90 staff members during his tenure, increased the budget from 4.9 to 13 million, and launched the first Center for Social Justice to serve as the regional catalyst for collaborative police reform efforts. ULGSO secured at least one job per day in the region and served 1600 black, brown, & women-owned businesses a year with total revenues of over seven billion and 60 thousand employees. After securing the most significant programmatic personal gift of $1M, the center expanded to education advocacy and health equity work. The Urban League of Greater Southwestern Ohio also serves as headquarters to the Small Business Development Center of Hamilton County.
Before his role, he served as the Chief Impact Officer for Mile High United Way, where he directed $18 million in investment strategies and programming shifting the work towards neighborhoods needs.
A Chicago native with roots in Alabama, he has a passion for education, equity, and criminal justice reform.
Eddie served as the chief-of-staff for Denver Public Schools (DPS), the largest school district in Colorado with a one-billion-dollar budget, where he was charged with overall coordination of policy, lobbying, and strategy. Under Eddie's efforts, DPS eliminated expulsions and drastically reduced suspensions for all students in the district from K-3.
In Denver, Eddie served as vice-chair of the Board of Trustees for the Denver Foundation (TDF), an $820M community foundation, chaired their work around racial equity, and served as a finance committee member. Eddie is the past co-chair of the Denver African-American Philanthropists and a member of the TDF's EPIC Initiation -elevating philanthropy in communities of color.
He served as the Colorado State Policy Adviser for Lumina Foundation's Strategy Labs, a platform to advance targeted initiatives on racial equity and degree attainment in underrepresented groups. Eddie served as the founding regional executive director for College Track, a comprehensive multi-state education nonprofit in a prior role.
He served as the executive director of Charity's House Ministries, a housing reentry nonprofit, targeting black men suffering from substance abuse and reentering society from prison. After law school, he worked as a legal fellow at Equal Justice Initiative- an advocacy organization serving defendants denied fair treatment in the legal system.
While living in Birmingham, Alabama, he co-founded the Birmingham Roundtable; a grassroots policy group focused on holding stakeholders accountable to the electorate. While serving as national chair for the National Black Law Students Association, he organized one of the largest death penalty moratorium rallies in history at the Carter Center. He co-founded Konbit Pou Edikayson – an international nonprofit focused on education and youth gang prevention in Cité Soleil (Sun City), Haiti.
In law school, he collaborated with the American Bar Association's "Death Penalty Representation Project" to provide critical legal services to clients on death row. As a result, the Alabama State Bar awarded and recognized Eddie for his outstanding work.
He served on the board for Cincinnati Country Day School, Mount St. Joseph University, Legal Aid Society of Greater Cincinnati, the Human Services Chamber, and the Community Investment Network. He served on the Advisory Board for the Barton Institute for Philanthropy and Social Enterprise, the Advisory Board for National Pre-Law Diversity Initiatives, Inc., the Board of Directors for Colorado Latino Leadership and Research Organization (CLLARO), the Colorado Forum, Board of Directors for Denver Health Community Health Services, Board of Directors for NAACP Denver, and vice-chair for the commission for the Denver Office of Strategic Partnerships. He also served on the Rocky Mountain Black Economic Summit board of directors.
In 2020, 2021, and 2022, Eddie was honored as one of the most powerful Cincinnati 300, an annual report on Greater Cincinnati's top 300 business leaders—the most influential and impactful people shaping Cincinnati. He was named as a "Top Boss to Watch" in 2020 and 2021 by the Cincinnati Business Courier. He was a Livingston Fellow by Bonfils Stanton for 2019; and, he was honored as a "Community Champion" by the City of Denver's Office of Children Affairs. He received the "Shoes of Justice Award," by Shorter AME Church in 2017 for his commitment to equity in education and recognition by the TheEduCtr for supporting educators of color. In Atlanta, GA, he was honored by the Community Investment Network for his dedication to philanthropy and giving in 2016. He was named one of Denver Urban Spectrum's Top 15 for 2015. He is one of Denver Business Journal's Forty under 40 for 2014 and a MODEL Man (Man of Distinction, Excellence, and Leadership) by Alpha Kappa Alpha Sorority, Incorporated.
In 2012, ColoradoBiz Magazine recognized Eddie as one of Colorado's Top 25 Most Influential Young Professionals. In August of 2013, Eddie received the Sebastian Owens Community Service Award from Urban League of Metro Denver. He received his law degree from Samford University, his Master of Public Administration degree from the University of Alabama at Birmingham, and his bachelor's degree from the University of Alabama at Tuscaloosa. He enjoys traveling with his family, playing chess, and live music.