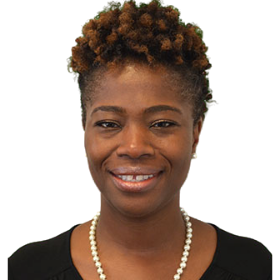 Tauheedah Jackson serves as the Director of Place Based Strategy & Community School Initiatives. She is responsible for engaging networks of leaders in local communities and supervising the programs, logistics, and daily operations of the Coalition.
Tauheedah brings to IEL nearly 22 years of experience working in youth development, local government, philanthropy, school districts and out-of-school time programs. She previously served as the Vice President for Strategic Partnerships for the Boys & Girls Clubs of Hartford. Most recently, as the Director of the Hartford Partnership for Student Success, Tauheedah led a cross-sector collaborative partnership that founded and funded the local community schools initiative in Hartford, Connecticut. Under Tauheedah's leadership, Hartford Community Schools became locally and nationally recognized as an exemplar for its systems-building work. Tauheedah was elected by her peers to serve as co-chair for IEL's Coalition for Community Schools Leadership Network and as a member of the Coalition's steering committee, before joining the IEL staff in 2019.
A native of Bridgeport, Connecticut, Tauheedah is a Connecticut College graduate and first-generation college student with a background in government and secondary education. She is currently a student in the Education Policy and Management program at the Harvard Graduate School of Education. She is a sought-after presenter and facilitator and sits on various nonprofit boards. She has received several awards recognizing her leadership in the field, including Hartford Business Journal's 40 Under Forty in 2013.