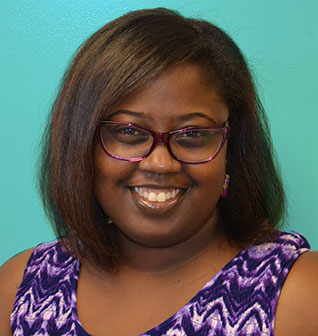 Ebony joined the IEL staff in November of 2013, as the Ready to Achieve Mentoring Program Coordinator (RAMP). She is responsible for working with the RAMP Program Director to help design and implement the RAMP Program, a high-tech, career-focused mentoring program for youth involved with or at risk of becoming involved with the juvenile justice system, including those with disabilities. She also assumes the primary responsibility for overseeing the day-to-day implementation of the program; delivering technical assistance to sites; completing reports and research collection; and planning and conducting monthly calls and annual meetings.
Prior to joining IEL, Ebony was a Case Management Specialist with the Maryland Department of Juvenile Services (DJS) in Baltimore, MD for seven years.  While a case manager with DJS, Ebony provided counsel, assistance and guidance to youth and their families in the area of employment, living conditions, recreation, financial and other social problems; analyzed material, conducted investigations, made recommendations, and referred youth and families to community service; and represented the Department in Juvenile Court to testify about treatment and rehabilitation places for difficult and complex youth.  She also worked as the assigned Spotlight on Schools case manager at a local high school where she worked collaboratively with the school to improve the attendance and graduation rates for DJS involved youth and represented the agency in the school system by participating in Student Support Team meetings and Individualized Education Plan meetings.  Ebony also facilitated cognitive awareness groups for Baltimore City DJS youth.
Ebony volunteered as a RAMP mentor through Humanim in Baltimore, MD for four years.  As a mentor, she took the lead in supporting her mentees through an ongoing one to one relationship, serving as a positive role model, building the relationship by planning and participating in activities together, and assisting with creating goals as well as better decision making skills to avoid involvement with the juvenile justice system.
Ebony received a Bachelor of Arts degree in Sociology from Augusta State University, now Georgia Regents University, in Augusta, Georgia, in 2005.  Ebony is also a 2010 graduate of the Leadership Development Institute of the Maryland Department of Juvenile Services, a program designed to assist individuals in identifying and developing effective skills in influencing others to follow in the achievement of a common goal by exploring various leadership principles including effective communication, organizational planning, teambuilding, motivation, and conflict resolution.