From reports to toolkits to practical strategies and tools, IEL produces resources for diverse audiences. Explore our most recent and popular items below.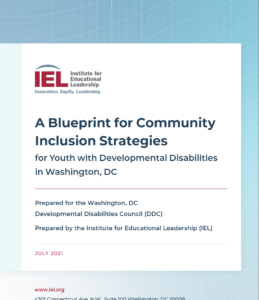 A Blueprint For Community Inclusion Strategies For Youth With Developmental Disabilities In Washington, DC
A Blueprint for Community Inclusion Strategies for Youth with Developmental Disabilities in Washington, DC provides a summary of comments and common themes among DC youth with disabilities and their families. This includes their top priorities, solutions to pressing issues, and ways that allies (individuals and organizations) can better support them. These priorities are foundations for a framework for policy and action steps that leaders, public institutions, and others can take to better engage and serve youth with disabilities in the District.