Jobs for the Future's Lucretia Murphy shares her reflections as a participant on the latest IEL Civil Rights Bus Tour.

by Lucretia Murphy, Senior Director, Jobs For the Future
Before we started the IEL Civil Rights Bus Tour, we signed a liability release form. It required our "in case of emergency." I was trying to figure out if I should give my dad's or mom's contact information when Helen stated the obvious, "Of course, we probably won't need this." I thought about this when I looked at the burned shell of a bus that carried the Freedom Riders at the Birmingham Civil Rights Institute. Our tour followed a bit of the Freedom Riders' route. The Freedom Riders wrote wills to be sent to their next of kin before they boarded their bus. They boarded the bus even though they believed that someone would be contacting their "in case of emergency." I travelled the trail that they blazed before us.
Decades past the Civil Rights movement, it seems inevitable that the Freedom Rides, sit-ins, marches, and even the thousands who died (some named, many unnamed) would break Jim Crow. All of these men, women, and children are now giants of history. But at their moment in history, they were just people. People with courage, amazing faith, and, as we heard time and time again, remarkable capacity for forgiveness in the face of injustice. But they risked it all not knowing they would "win."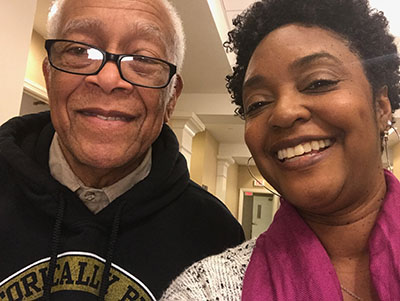 We met men and women, whose names are not on the list of well-known leaders, like Hollis Watkins, Roscoe Jones, Sr. and Flonzie Brown Wright who marched, organized, and were imprisoned in Mississippi. We talked with women in Alabama who participated in Bloody Sunday and the Turnaround Tuesday march across Edmund Pettus Bridge; they were only fourteen years old at the time. (I wondered: Have I prepared my son to step up for justice in 8 short years?! Would I let him risk his life?!)
The Rosa Parks Memorial Museum highlighted the women who led the movement, such as the women arrested on Montgomery buses for resisting segregation: Irene Morgan, Lillie Mae Bradford, Sarah Louise Keys, the young Claudette Colvin, Aurelia Browder, Susie McDonald, and Mary Louise Smith. The museum highlighted Mrs. Parks' history as a committed activist, not a tired seamstress or "accidental" leader; and the fact that JoAnn Robinson conceived of, planned, and publicized the boycott in FOUR DAYS!!!
Over the course of the four-day tour, we walked the hallowed ground of well-known martyrs and leaders. We visited Medgar and Myrlie Evers' home; the place where Michael Schwerner, Andrew Goodman, and James Chaney were killed and later buried; the 16th Street Baptist Church where a bomb killed 4 little girls and blinded another; and Dr. and Corretta Scott King's Dexter Avenue parsonage that was bombed when Mrs. King was home with her baby girl.
There was so much patience. Killers walked free for decades after killing Medgar Evers, bombing 4 little girls and blinding another at 16th Street Baptist Church, bombing Vernon Dahmer's home, and killing Carney, Goodman, and Schwerner. Just as journalists put the truth of racial justice on the headlines in the 1960s, journalists like Jerry Mitchell were part of bringing justice to these martyrs. There is an assault on the press because people are scared of the truth. And they should be afraid. Good journalists have the power to resurrect the dead so that justice can live.

This struggle for justice continues. At the Southern Poverty Law Center and Equal Justice Initiative we talked about the work that still needs to be done. SPLC tracks the evolution of hate from the KKK to and the growing number of hate groups at work in America now. EJI work against the death penalty and racial injustice in the criminal system is positioned as the legacy of the racial terror of lynchings and conscription labor. (EJI's office was a warehouse for holding slaves to be sold or recently bought from the Montgomery slave markets.)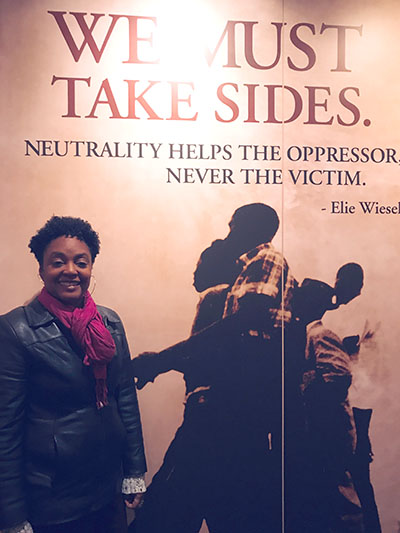 EJI put this in my lap and my heart and I can't let it go. FOR EVERY MAN WHO LIVES WITHOUT FREEDOM, THE REST OF US MUST SHARE THE GUILT. We heard from a man who was in prison on death row for decades for crime he didn't commit. Anthony Ray Hinton spent more than 30 years on Alabama's death row for murder. There was no evidence against him and a solid alibi to exonerate him. When he was finally exonerated 30 years later, Alabama refused to compensate him and there was no apology. He sobbed,"Don't I deserve justice?"
The IEL tour provided an impactful history lesson and more importantly, gave me a charge and a challenge. EJI's model of situating current reforms in historical context gives new urgency to my work for economic mobility for people returning from incarceration and facing race/class/gender barriers to full economic inclusion.
I signed the pledge at SPLC Wall of Tolerance and I intend to keep it.
By placing my name on the Wall of Tolerance, I pledge to take a stand against hate, injustice and intolerance. I will work in my daily life for justice, equality and human rights – the ideals for which the Civil Rights martyrs died.