Several IEL-affiliated individuals with disabilities and their family members attended a White House event with Vice President Joe Biden highlighting the benefits of the new ABLE Act.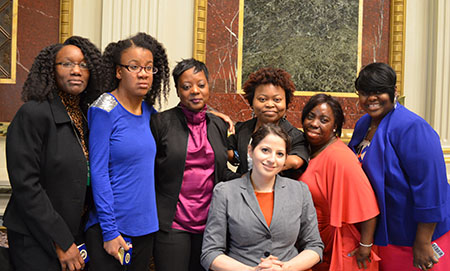 Today, IEL and several individuals with disabilities and their family members affiliated with IEL's programs, including DC Advocacy Partners, attended an event at the White House highlighting the benefits and achievements of the Achieving a Better Life Experience (ABLE) Act of 2014. Attendees heard remarks from Vice-President Joe Biden as well as Senators Bob Casey and Richard Burr, Congressmen Ander Crenshaw, Chris Van Hollen, and Pete Sessions, and Congresswomen Cathy McMorris Rodgers and Eleanor Holmes Norton. Following remarks from the members of Congress, attendees heard from ABLE Act advocates Catherine Beck and Sara Wolff, Sharon Lewis from the Administration for Community Living at the U.S. Department of Health and Human Services, and Taryn Williams with the White House Office of Public Engagement.
The ABLE Act creates a new savings account for people with disabilities who acquired their disabilities before age 26. These tax-preferred accounts allow families to save up to $100,000 for future disability-related expenses including education, healthcare, transportation, and housing, without the risk of losing Medicaid and Social Security benefits. The bipartisan ABLE Act was passed in the Senate on December 16, 2014. President Obama signed into law on December 19, 2014. People with disabilities may be able to start opening ABLE accounts soon, but states must first put regulations in place.
UPDATE: Facebook photo album