August 24, 2022
The Institute for Educational Leadership (IEL) applauds President Biden's announcement today to forgive student loan debt for many Americans, while also encouraging policymakers to curb increasing tuition costs of higher education.
President Biden announced he will cancel up to $20,000 for Pell Grant recipients and up to $10,000 forgiveness for most other borrowers. In addition to this debt relief, the White House also announced a final extension for the federal student loan repayment until December 31, 2022, and a 5% payment cap of a borrower's monthly income. 
For the 90% of Americans earning under $125,000 a year, or the 93% of married couples filing jointly who make less than $250,000 per year, this debt relief will help lift what is for many, a lifelong financial burden. President Biden's plan will help to address the racial wealth gap among borrowers who qualify for student loan debt forgiveness. 95% of Black, 96% of Native American, 83% of Asian, and 96% of Hispanic student loan debt holders will benefit from this plan.

Pell Grant recipients, who account for 70% of students who have federal loans, have on average an additional $4,500 more debt than other college graduates, according to the Institute for College Access & Success. Increasing the Pell Grant will address inequities faced by many Black and other non-white borrowers, who often end up with higher average loan balances than their white peers.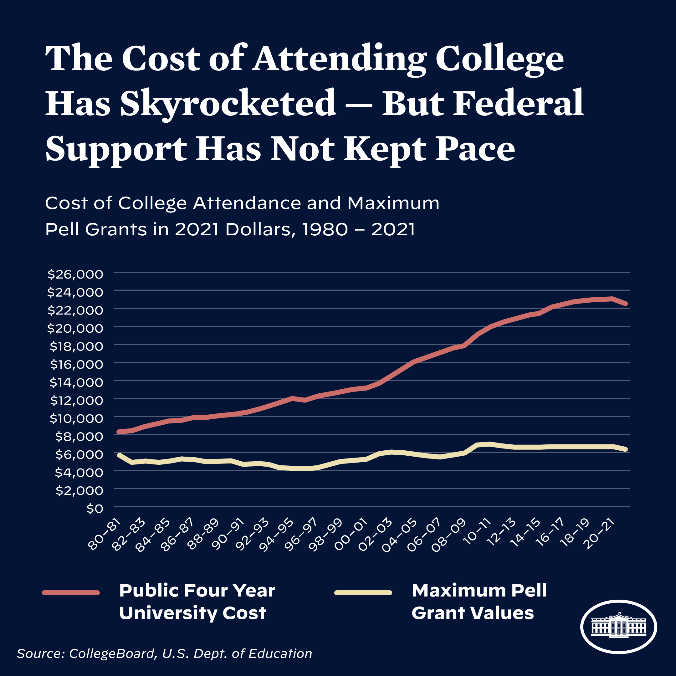 "The decision to grant additional forgiveness for Pell Grant recipients reflects an equitable step towards helping the borrowers who need it the most. Although we celebrate this news, we also know that more needs to be done to re-examine the cost of higher education," said IEL President Eddie Koen. "For too many borrowers, student debt will remain a substantial obstacle to financial freedom. Although we know that higher education is a key pathway to success and stability, affording a college education or higher degree should not be so difficult, nor should the decision to obtain a degree be one that negatively affects someone's finances for so many years to come."
"This student loan forgiveness plan is a huge step in the right direction to help many Americans get back on track, but more work is needed to ensure that forgiveness plans like this one are not needed in the future for current and incoming college students," said Michelle Lessly Blackburn, IEL's Policy Coordinator. "Congress needs to increase the Pell Grant, starting with the Biden Administration's request to $8,670 per year, and states need to reinvest in their public higher education institutions to lessen the cost burden on students. Over the course of the pandemic states cut $1.9 billion in funding to higher education, money that could help students pursue their degree."

Making changes to college affordability has a multi-generational impact. Many borrowers are parents, and reducing their student debt gives them more resources to invest in meeting their families' needs, including their own children's education. In order to help all children and families thrive, we must expand student loan forgiveness in the near-term, and make college more affordable and accessible in the long-term.