Upcoming Webinars
The Science of Communicating with Busy Families and Educators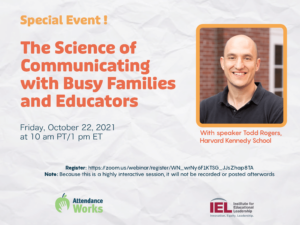 Friday, October 22, 2021 at 10 am PT/1 pm ET
With schools and districts sending more than the usual number of communications, making sure messages are read and understood is paramount. Attendance Works and the Institute for Educational Leadership (IEL) are delighted to invite Todd Rogers of Harvard University to share the science of writing so busy families and educators read, understand and take action based on our messages.
In this webinar Rogers will illustrate that most of us don't carefully read practical communications (emails, texts, forms and mail). We skim. This has surprising implications for how we should write. Rogers will share an actionable checklist for individuals and teams, and six easy-to-apply principles for writing that is more effective, inclusive and kind.
NGC Kick-Off Meeting

Tuesday, October 26, 2021 at 7 PM ET

Come join the Next Generation Coalition (NGC) as we kick off our first event of the school year!
During this event, we will connect with each other, review the mission of NGC, and recap all the events, trainings, and work that was done this past school year.
Moving forward into the new year, we will be discussing the support and resources youth and YOU need to be successful. So come join us and be apart of the conversation!
Featured Webinars
Maximizing new federal relief dollars for student success and community development: A Next Generation Community Schools Forum Wednesday, May 12 
Check out the agenda here.
Watch the recording: https://www.youtube.com/watch?v=kEDeS12FrtM
Speakers:
Rebecca Winthrop, Brookings @rebeccawinthrop
Jose Munoz, Institute for Educational Leadership and Coalition for Community Schools @Munoz4Youth
Katarina Sandoval, New Mexico Public Education Dept
Kristen Harper, Child Trends @KHarper_edulove
Sarah Jonas, Office of Community Schools, NYC Department of Education @sarahjonasnyc
Senator Missy Irvin, Arkansas @ARSenMissyIrvin