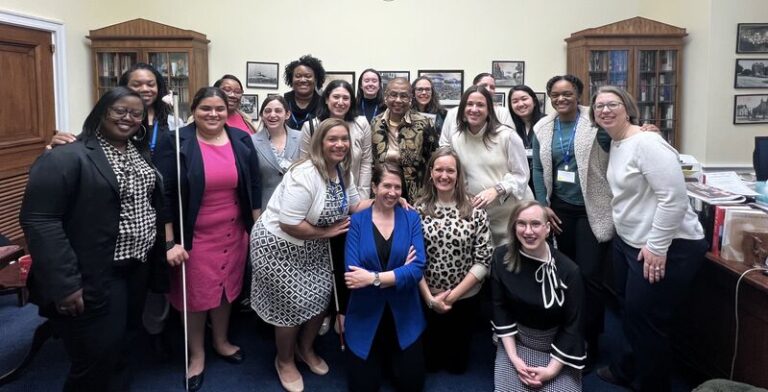 About DC EPFP
The Education Policy Fellowship Program (EPFP™) is a nationally recognized fellowship program with the mission to engage a diverse and collaborative community of strategic leaders to promote equitable education policy. 
The Washington, D.C. Education Policy Fellowship Program (DC EPFP), IEL's longest-running EPFP site, provides unparalleled opportunities for Fellows to deepen their leadership skills, their knowledge and application of public policy, and their professional network. 
The EPFP curriculum is guided by three strands – policy, leadership, and networking – and three corresponding goals: 
Leadership: Fellows are prepared to foster and facilitate conversation and collaboration to advance equity in education and to contribute to shifting power to those most impacted and historically marginalized by the policymaking process to lead these efforts.

 

Policy: Fellows are prepared to analyze, evaluate, influence, and implement policy change, including structural reforms, to eliminate systemic barriers to access and opportunity in education.

 

Networking: Fellows are prepared to deepen, expand, diversify, and leverage their networks to pursue policies at all levels-local, state, and federal-that will advance education equity.

 
Throughout the program, Fellows will: 
meet in-person and learn from education leaders on contemporary  topics in education

 

participate in virtual cross-site national programming

 

attend the Washington Policy Seminar in the spring, the premier national education policy capstone conference

 

design and present a policy project on an education topic of interest to demonstrate their application of key knowledge, skills, and leadership attributes

 
*Please note that apart from the Washington Policy Seminar (WPS), all National EPFP programming is virtual. Portions of DC EPFP sessions will be made hybrid to allow for online participation. Fellows are expected to attend WPS as a capstone event.
Join an extensive DC-area network of more than 1,500 alumni—and the talented Fellows in the program—and capitalize on this incredible professional growth opportunity. This DC cohort is also accepting applications from prospective Fellows who live outside the DMV-area that do not reside in states with an existing EPFP site (click here to see all sites).
We are accepting applications August 1st 2023 – September 22nd 2023.
Access the 2023-2024 application here. 
Pricing:
Early Bird (through August 18th): $3,500
Regular price: $3,800
*please note that the program fee does not include travel and lodging associated with attending sessions and the Washington Policy Seminar
We look forward to receiving your application! For any questions, please contact us at epfp@iel.org.
Recent DC EPFP Alumni Stories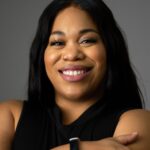 Raven DeRamus-Byers, Equity Specialist at DC Office of the State Superintendent of Education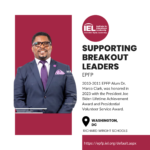 Dr. Marco Clark, Founder and Chief Executive Officer at Richard Wright Public Charter Schools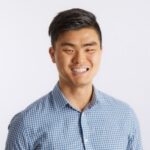 Ji Soo Song, Digital Equity Advisor at U.S. Department of Education
Beatriz Ceja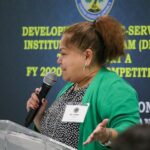 , Senior Director to Institutional Service at the Office of Postsecondary Education, U.S. Department of Education
2023 – 2024 Program Structure:
3 in-person, site-level sessions (plus opening retreat and graduation) – 24 hours
7 online, national sessions (1 symposium, 2 modules, 2 webinars, 2 networking sessions) – 10 hours
1 in-person national capstone (3-day Washington Policy Seminar) – 18 hours
Policy project independent/group work (up to 20 hours)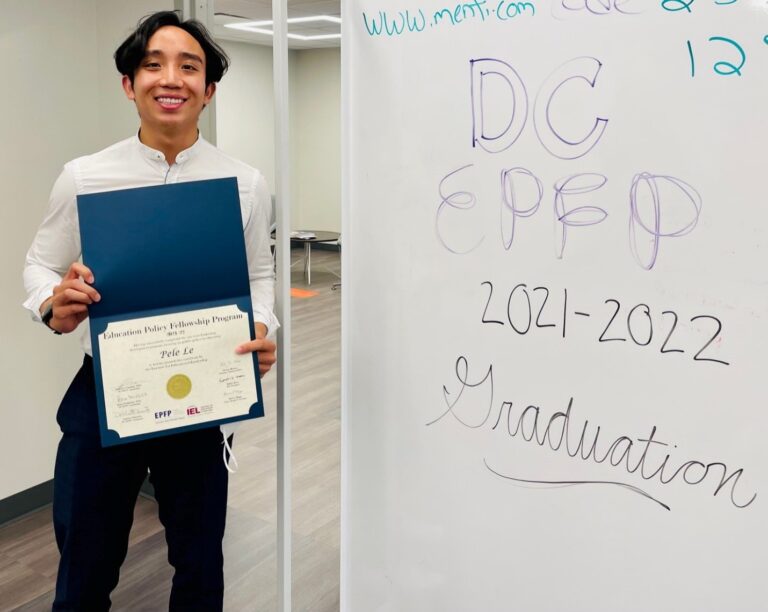 A Holistic Experience:
Hybrid (in-person will also have online accessibility)
National programming infused and a part of the site-level experience

Collaborative leadership
National education policy trends & issues
Federal policy

Modules used to guide Fellows through a policy project
Leadership and social capital building (networking) infused throughout
Individual sessions have DEI foundation, balancing evergreen and timely issues and resource